The Most Common Sporting Injuries - causes, treatments and prevention to keep you performing at your best
If you're a regular sports player and have been injured, you will know how much it can affect your life. They always seem to happen at the worst possible times and can push back your sporting progress, affect your ability to work well and even disturb your home life and sleeping patterns.
We've come up with the top 7 sporting injuries we treat most commonly at P1 Physio: and clear and easy ways you can both treat and prevent them in your own sporting life.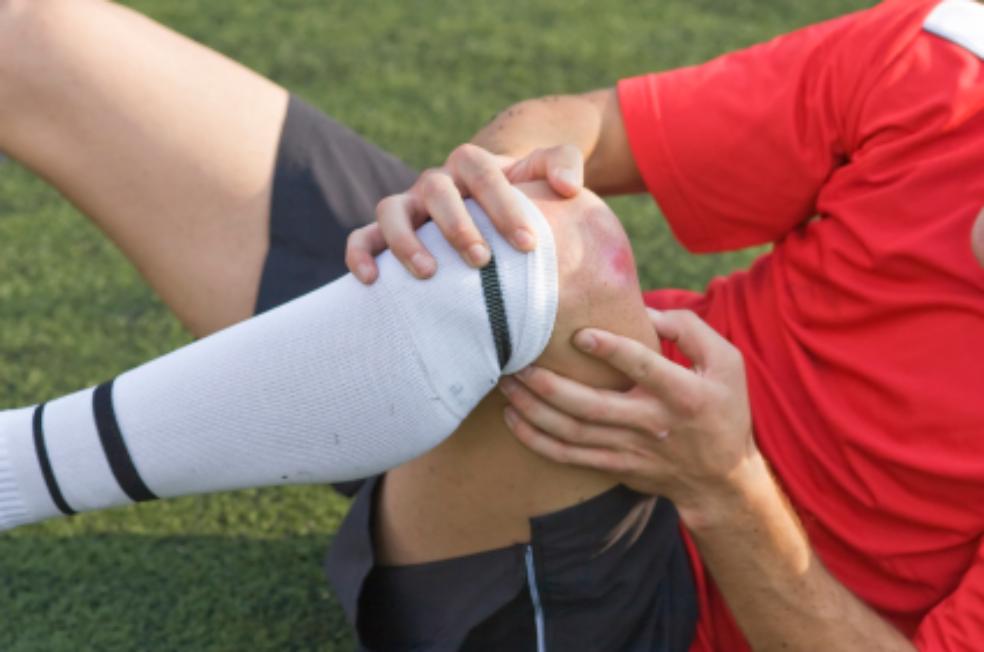 1. Ankle Sprain
Symptoms and causes:
Ankle sprains are one of the most common sporting injuries. When you twist your ankle during sport, you are likely to damage the ligaments outside. Commonly, there is immediate pain, followed by swelling, bruising and the ankle feeling tender to the touch.
Treatment:
Luckily, most ankle sprains can be treated easily at home by avoiding HARM and using PRICE therapy. For up to 72 hours following the injury, avoid: Heat (baths and saunas etc.), Alcohol, Running and Massage, which can increase swelling. Protect the injury (by supporting it to avoid further injury), Rest it (but don't let it go stiff), Ice it (for 15 to 20 minutes every 2-3 hours with an icepack), Compress it (using tape or wraps but not too tightly!) and Elevate it.
Your doctor will be able to diagnose any serious injury who may refer you to a physiotherapist to help rehabilitate the ankle.
Prevention:
The best way to prevent an ankle injury is to correctly warm up. Start by performing gentle exercises related to your sports. Get shoes that are best suited to the sport and replace them when they start to wear down. Avoid running on uneven ground and if you've been injured before, get back into sport slowly after a suitable rehabilitation period. Taps and wraps can be used during the initial returning phase: we would suggest K-Tape, which you can read all about here.
2. Hamstring Strain
Symptoms and causes:
Hamstrings are the group muscles at the back of the thigh. Injuries often occur during sudden movements and can range from mild pulls and strains to partial tears and complete tears. You may feel a gradual tightening with worsening pain or feel a pop, followed by severe pain. The muscle may seize up, swell and bruise.
Treatment:
Depending on the severity of the injury, hamstrings can take from days to months to heal properly. During the first few days use the PRICE treatment but make sure you don't stay inactive for too long as the muscles can shrink and become stiff after recovery. Once the pain has reduced you can start doing gentle hamstring exercises, supervised by a physiotherapist who can make sure everything is done correctly and safely.
Prevention:
To avoid injuring your hamstrings, ensure you fully warm up and cool down during sports. Stop immediately if you start to feel any pain or tightness in your legs. During training, ensure you include hamstring strengthening exercises and be aware of your level of fitness.
3. Knee Injuries
Symptoms and causes:
Knee damage is common, especially in contact sports and can happen suddenly or over a period of time. There are a few different types of knee injury, but most are either cartilage damage, a torn anterior cruciate ligament (ACL) or kneecap malalignment. Without a doctor's diagnosis, it can be difficult to determine which injury you have, but if your knee begins to feel stiff, severely painful or swells up and feels unstable, then you must visit a doctor to make sure you do not require medical attention.
Treatment:
Depending on the type and severity of your injury, your doctor may refer you to a physiotherapist to rehabilitate the knee or in extreme cases surgery may be required. Immediately following the injury, stick to the HARM and PRICE treatments and make sure you don't cause any more injury.
Prevention:
For long term prevention of knee injuries, ensure you are using proper technique during exercise. Consider taking lessons to keep yourself up to date and make sure you don't cause any lasting harm. Make sure you are stretched and warmed up. Also make sure to only use equipment appropriate to your size, strength and ability: trying too much may result in injury.
4. Neck Pain
Symptoms and causes:
Playing sports regularly can put a lot of wear and tear on the muscles and ligaments of your neck. Direct blows in contact sports can cause muscular, ligament and even disc and nerve damage. More commonly, neck pain can result from poor posture or overuse. If you start to feel pain, your neck becomes stiff or you are unable to move it, then you have sustained a neck injury.
Treatment:
Your neck is one of the parts of your body that you really need to protect when engaging in sports and injuries can become very serious. Visit your doctor to make sure that there is no serious damage. Apply ice and cold packs to the injured area in 15 minute durations 3 or 4 times a day to soothe the pain. For the first day or so, try not to move the neck too much, but complete gentle movements within your pain limits. Once the pain has reduced, try using a heat pack to relieve the pain. If your neck still feels stiff or painful after 10 days, consult a physiotherapist.
Prevention:
Unfortunately, neck pain can suddenly occur with no real warning, but there are various things you can do to keep it at bay. As is common with all exercise, warm up and stretch out. Ensure you are maintaining a good posture both at work and when engaging in sports and using appropriate equipment.
5. Achilles Tendonitis
Symptoms and causes:
This is pain of the Achilles tendon at the back of your foot and ankle, usually caused by overuse. It is most common in runners and dancers but can affect all sports players. Symptoms can include gradual onset of pain and stiffness, and tenderness. The severity of the injury can vary, so always see a doctor to determine what the best treatment should be.
Treatment:
As with most sprains and tendon related injuries, follow the PRICE method following any pain or suspected acute injury. After the pain has subsided then small gentle movements can be made to rehabilitate the injury and make sure it heals properly. Long term injuries may require a specific rehabilitation programme.
Prevention:
Achilles Tendonitis has the tendency to build up over a long period of time, from repeated small tears not healing properly, so completely preventing it is nearly impossible. Walking slowly for a few minutes if you start to feel pain or stiffness can help ward off an attack. A sure fire prevention method is to ensure your lower limbs are strong.
6. Pulled Muscle
Symptoms and causes:
If you play sport regularly, chances are you've had a pulled muscle at some point. Overuse or over exerting any of your muscles can result in it being strained or even torn. The muscle will become very painful and stiff, and there could be swelling or bruising around the affected area.
Treatment:
For mild injuries, stick to PRICE therapy and the muscle should recover very quickly. For more serious muscular injuries, especially if you hear a popping sound with the injury, you should go straight to A&E to be checked over by a doctor.
Prevention:
It goes without saying that the best way to avoid damaging your muscles is to make sure you are warmed up, stretched and ready for exercise. Check that you are using the proper technique: consult with a coach or expert to make sure you do exercise in the best and safest way possible.
7. Shoulder Injury
Symptoms and causes:
Shoulder injuries can occur suddenly after acute trauma or can gradually build up over time. Commonly, injuries will be to the rotator cuff (group of four muscles that stabilise the shoulder), a dislocation or a fracture. Muscular injury can occur if you over use the muscles or make sudden, jarring movements. If a rotator cuff tear has not healed properly, it becomes a chronic injury. It can cause intense pain, stiffness and swelling around your shoulder.
Treatment:
After injury, painkillers and ice packs can help reduce pain and swelling. Treat it in a similar way to a neck injury and follow the same steps to rehabilitate in the best way possible. If there has been a dislocation or fracture, your doctor can provide medical treatments and follow it up with physiotherapy treatment.
Prevention:
Make sure the techniques you use are correct to avoid injury. Ensure you are warmed up and stretched before attempting exercise to make sure that any sudden movements won't cause you harm. Incorporate rotator cuff exercises to get them used to physical movements. The stronger and more durable your muscles are the more they can perform without the risk of injury.